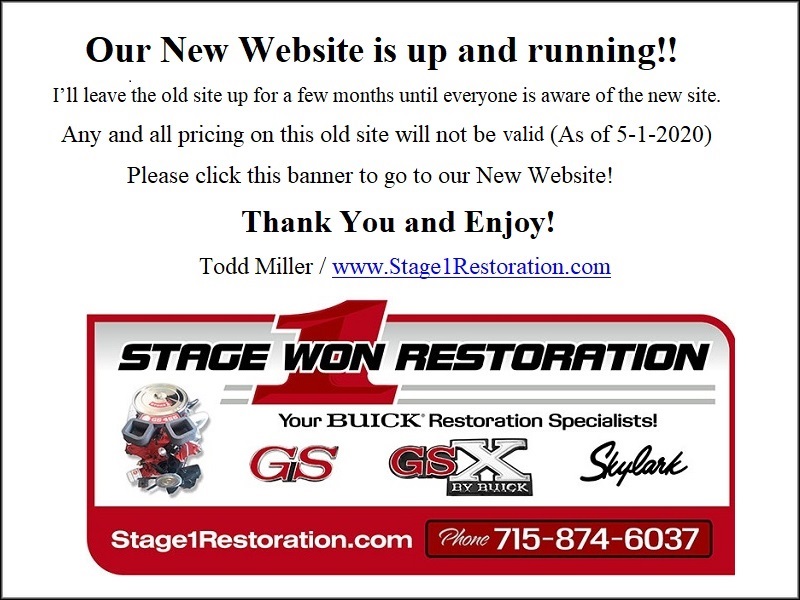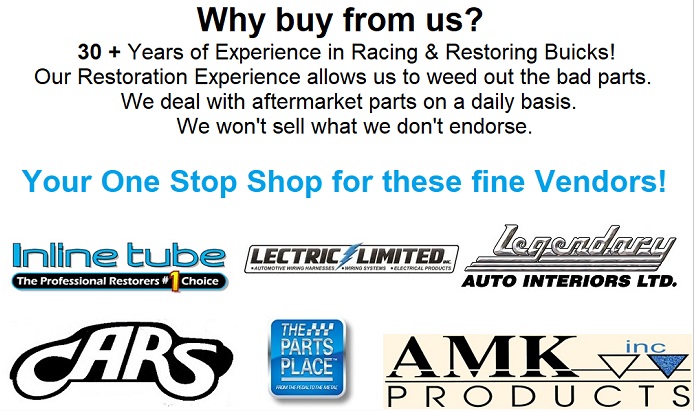 Ordering Information
If you have a handful of parts to order
Simply click here to fill out our Simple but Secure Online Order Form
This is the same Order Form used for our Die Cast Section. It's Simple & Secure.
A confirmation E-Mail will be sent to you during business hours.
A detailed Invoice will be included in your shipment.
All parts are labeled for your convenience!
If you have a bunch of Parts you need please call me (Todd)
I'll be happy to take your order and answer any questions
you may have regarding our parts or your project in general.
Phone Orders recommended for larger orders (715) 874-6037
Business Hours are 1pm to 6 pm Central Time
Thank You for your Order. If you have any questions feel free to contact me.
Shipping Fees depends on the size of your order.
Usually between $7 - $25
If you need an exact quote on shipping please E-Mail me.
You Are Currently viewing our Buick Decals Page
Ram Air Cleaner Decals
This is the "GS 350" Decal that goes on the Air Intake Assembly
Stock Number
DB0024
Fits
1970 - 72 350 Equipped Cars
Manufacture
Jim Osborn Reproductions
Retail Price
$7.00 Each

Ordering Information at the top of each Web Page
Ram Air Cleaner Decals
This is the "GS 455" Decal that goes on the Air Intake Assembly
Stock Number
DC 1581 S
Fits
1970 - 72 455 Equipped Cars
Manufacture
The Parts Place
Retail Price
$6.00 Each

Ordering Information at the top of each Web Page
Ram Air Cleaner Decals
This is the "Stage 1" Decal that goes on the Air Cleaner Lid
Stock Number
DC 1582 S
Fits
1969 - 72 455 Equipped Cars
Manufacture
The Parts Place
Retail Price
$6.00 Each

Ordering Information at the top of each Web Page
Ram Air Cleaner Decals
This is the "Stage 2" Decal that goes on the Air Cleaner Lid
Stock Number
DC 1583 S
Fits
Stage 2 Equipped Cars
Manufacture
The Parts Place
Retail Price
$6.00 Each

Ordering Information at the top of each Web Page
1969 Stage 1 Valve Cover Decal
This is the "Stage 1" Decal that goes on the Valve Covers
Stock Number
DB0072
Fits
1969 GS 400 Stage 1
Manufacture
Jim Osborn Reproduction
Retail Price
$9.00 Each

Ordering Information at the top of each Web Page
1969 Stage 2 Valve Cover Decal
This is the "Stage 2" Decal that goes on the Valve Covers
Stock Number
DB0323
Fits
1969 GS 400 Stage 2
Manufacture
Jim Osborn Reproduction
Retail Price
$9.00 Each

Ordering Information at the top of each Web Page
Air Cleaner Decals
This is the Decal located on the Side
that says "Keep your GM Car all GM"

Photo may not represent your specific application
Application
Part Number
1970 GS 350
Coming Soon! (All)
1970 GS 455
1970 GS 455 Stage 1
1971 GS 350
1971 GS 455
1971 GS 455 Stage 1
1972 GS 350
1972 GS 455
1972 GS Stage 1
Manufacture
Dr Decal
Retail Price
$

Ordering Information at the top of each Web Page
Door Jamb Decal
With Clear Overlay
Stock Number
DC 5182 Z
Fits
Skylark / GS / GSX
Manufacture
The Parts Place
Retail Price
$12.00 Each

Ordering Information at the top of each Web Page
1970 Emissions Decal
This is the Decal mounted to the Radiator Top Plate

Photo may not represent your specific application
Application
Part Number
350 / Auto Trans / Built before 1-1-1970
DC 1729 S
350 High Compression / Auto Trans / Built after 1-1-1970
DC 1733 S
455 / Auto Trans / Built after 1-1-1970
DC 1734 S
455 Stage 1 / Manual Trans / Built before 1-1-1970
DC 1730 S
455 Stage 1 / Auto Trans / Built before 1-1-1970
DC 1731 S
455 Stage 1 / Manual Trans / Built after 1-1-1970
DC 1735 S
455 Stage 1 / Auto Trans / Built after 1-1-1970
DC 1736 S
Retail Price
$6.00 Each

Ordering Information at the top of each Web Page
1971 Emissions Decal
This is the Decal mounted to the Radiator Top Plate

Photo may not represent your specific application
Application
Part Number
350 / Auto Trans
DC 1738 S
455 / Auto Trans & Manual Trans
DC 1740 S
455 Stage 1 / Auto & Manual Trans
DC 1739 S
Retail Price
$6.00 Each

Ordering Information at the top of each Web Page
1972 Emissions Decal
This is the Decal mounted to the Radiator Top Plate

Photo may not represent your specific application
Application
Part Number
350 / Auto Trans & Manual Trans
DC 1741 S
455 / Auto Trans & Manual Trans
DC 1742 S
455 Stage 1 / Auto & Manual Trans
DC 1743 S
Retail Price
$6.00 Each

Ordering Information at the top of each Web Page
Frigidaire A/C Compressor Decals
Red Version - Mounts on the A/C Compressor

Photo may not represent your specific application
Application
Part Number
1970
DB0120
1971
DB0169
1972
DB0170
Retail Price
$7.00 Each

Ordering Information at the top of each Web Page
Frigidaire A/C Compressor Decals
Blue Version - Mounts on the A/C Compressor

Photo may not represent your specific application
Application
Part Number
1971 (724)
DB0335
1971 (725)
DB0467
1972
DB0370
Retail Price
$7.00 Each

Ordering Information at the top of each Web Page
Harrison Evaporator Decals
Mounts on the A/C Evaporator

Photo may not represent your specific application
Application
Part Number
1970
DC 1645 S
1971
DC 1646 S
1972
DC 1647 S
Retail Price
$6.00 Each

Ordering Information at the top of each Web Page
Tire Pressure Maintenance Decals
Mounts in the Glove Box

Photo may not represent your specific application
Application
Part Number
1970 w/ 350
DC 1768 S
1970 w/455
DC 1764 S
1971 w/350
DC 1749 S
1971 w/455
DC 1770 S
1972 w/350
DC 1771 S
1972 w/455
DC 1772 S
Retail Price
$6.00 Each

Ordering Information at the top of each Web Page
Jack Instructions Decals
Mounts on bottom side of Deck Lid

Photo may not represent your specific application
Application
Part Number
1970
DC 1699 S
1971
DC 1701 S
1972
DC 1702 S
Retail Price
$6.00 Each

Ordering Information at the top of each Web Page
Space Saver Spare Tire Stowage Decal
Mounts on bottom side of Deck Lid
Stock Number
DB0338
Fits
Skylark / GS / GSX
Manufacture
Jim Osborn Reproduction
Retail Price
$7.00 Each

Ordering Information at the top of each Web Page
GSX Quarter Panel Emblem
Stock Number
DC 1829 S
Fits
1970 - 72 Buick Skylark / GS / GSX
Manufacture
The Parts Place
Retail Price
$12.00 Each

Ordering Information at the top of each Web Page
GSX Rear Spoiler Emblem
Mounts on backside of the Rear Spoiler
Stock Number
DC 1830 S
Fits
1970 - 72 Buick Skylark / GS / GSX
Manufacture
The Parts Place
Retail Price
$11.00 Each

Ordering Information at the top of each Web Page
3M Dash Woodgrain Kits
New Product with "Back Lit Translucent"
Works with A/C and Non A/C Vehicles!
Stock Number
IN 2466 S
Fits
1970 - 72 Buick GS / GSX / Skylark
Manufacture
The Parts Place
Retail Price
$65.00
Our Price
$60.00

Ordering Information at the top of each Web Page
3M Dash Kits (Black Version)
New Product with "Back Lit Translucent"
Works with A/C and Non A/C Vehicles!
Stock Number
IN 2465 S
Fits
1970 - 72 Buick GS / GSX / Skylark
Manufacture
The Parts Place
Retail Price
$69.00
Our Price
$65.00

Ordering Information at the top of each Web Page
PF24 Oil Filter Decal
Converts a Filter of your choice to resemble the PF24
You will need a White Filter as the Decal is transparent
Stock Number
DC 1681 Z
Fits
Skylark / GS / GSX
Manufacture
The Parts Place
Retail Price
$3.00 Each

Ordering Information at the top of each Web Page