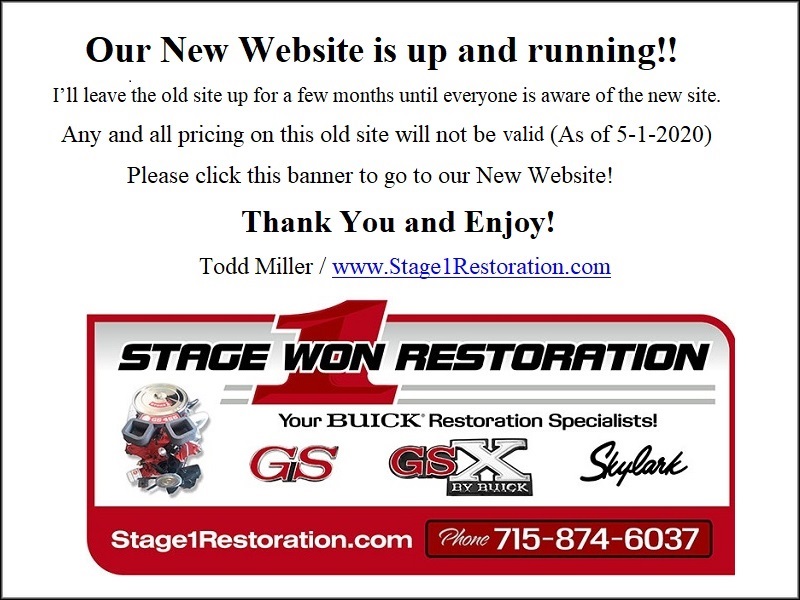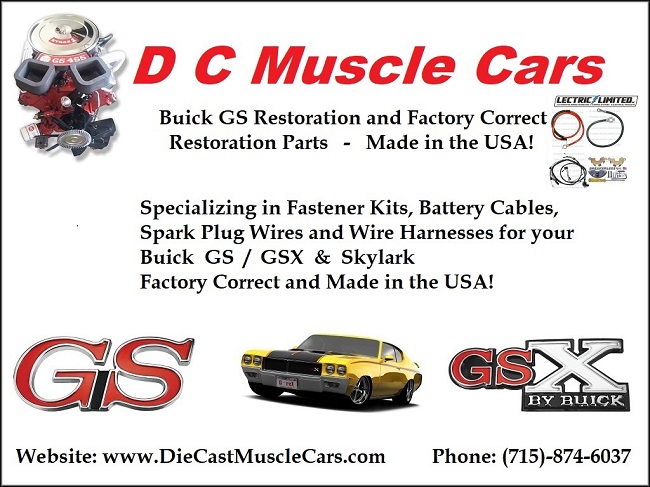 Factory Correct - Date Coded Spark Plug Wires
Made by Lectric Limited right here in the USA!
We specialize in 1970 - 1972 Buick's but we
try to accommodate all years!
If you don't see your year or model please call us.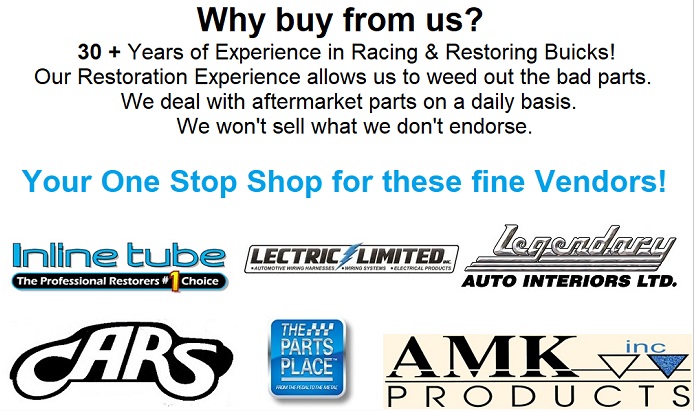 Exact Reproduction Sets
In order to satisfy the most discriminating enthusiast and restorer, Lectric Limited offers authentic reproduction spark plug wire sets.
These sets are identical to the spark plug wires as they would have appeared on your vehicle when it shipped from the factory.
They look, fit, and perform exactly as original and provide the finishing touch for any original or restored vehicle.
All sets include the coil wire.
Manufactured from the original manufacturer (GM, Chrysler, AMC) specifications/blueprints.
Wire Conductor: original wire type (carbon-core).
Wire Color: original color (black, gray or brick red).
Wire Lengths: original wire lengths.
Wire Script: original script nomenclature.
Wire Script Color: original script ink type and color (white, black or yellow).
Wire Braiding: original machine-applied metal braiding (only 1965-74 Corvette big block with radio).
Wire Manufacturer: original manufacturer (Packard Electric®).
Wire Date Code: original date code (if applicable).
Terminals: original configuration (45°, 90°, 135° or 180°).
Boot Color: original color (black, gray, brown or orange).
Boot Type: original size, shape and configuration (45°, 90°, 135° or 180°).
Date Coded Spark Plug Wires
Ordering Information
If you have a handful of parts to order
Simply click here to fill out our Simple but Secure Online Order Form
This is the same Order Form used for our Die Cast Section. It's Simple & Secure.
A confirmation E-Mail will be sent to you during business hours.
A detailed Invoice will be included in your shipment.
All parts are labeled for your convenience!
If you have a bunch of Parts you need please call me (Todd)
I'll be happy to take your order and answer any questions
you may have regarding our parts or your project in general.
Phone Orders recommended for larger orders (715) 874-6037
Business Hours are 1pm to 6 pm Central Time
Thank You for your Order. If you have any questions feel free to contact me.
Shipping Fees depends on the size of your order.
Usually between $7 - $25
If you need an exact quote on shipping please E-Mail me.
1968 Buick Spark Plug Wire Set
Year
Engine
Date
Stock Number
Retail Price
Our Price
1968
350
3-Q-67
3338-673
$74.95
$69.95
1968
350
1-Q-68
3338-681
$74.95
$69.95
1968
400
3-Q-67
3342-673
$74.95
$69.95
1968
400
1-Q-68
3342-681
$74.95
$69.95

Ordering Information at the top of each Web Page
1969 Buick Spark Plug Wire Set
Year
Engine
Date
Stock Number
Retail Price
Our Price
1969
350
3-Q-68
3338-683
$74.95
$69.95
1969
350
1-Q-69
3338-691
$74.95
$69.95
1969
400
3-Q-68
3342-683
$74.95
$69.95
1969
400
1-Q-69
3342-691
$74.95
$69.95

Ordering Information at the top of each Web Page
1970 Buick Spark Plug Wire Set

Year
Engine
Date
Stock Number
Retail Price
Our Price
1970
350
3-Q-69
3338-693
$74.95
$69.95
1970
350
1-Q-70
3338-701
$74.95
$69.95
1970
455
3-Q-69
3342-693
$74.95
$69.95
1970
455
1-Q-70
3342-701
$74.95
$69.95

Ordering Information at the top of each Web Page
1971 Buick Spark Plug Wire Set
Year
Engine
Date
Stock Number
Retail Price
Our Price
1971
350
3-Q-70
3338-703
$74.95
$69.95
1971
350
1-Q-71
3338-711
$74.95
$69.95
1971
455
3-Q-70
3342-703
$74.95
$69.95
1971
455
1-Q-71
3342-711
$74.95
$69.95

Ordering Information at the top of each Web Page
1972 Buick Spark Plug Wire Set
Year
Engine
Date
Stock Number
Retail Price
Our Price
1972
350
3-Q-71
3340-713
$74.95
$69.95
1972
350
1-Q-72
3340-721
$74.95
$69.95
1972
455
3-Q-71
3344-713
$74.95
$69.95
1972
455
1-Q-72
3344-721
$74.95
$69.95

Ordering Information at the top of each Web Page
Spark Plug Block Off Kit
Use this kit for the Painting Process, Cleaning Process
or Storage during Restoration.

These plugs fit down inside your Spark Plug
holes for the Painting Process or Storage.

Stock Number
SPBOK
Fits
Buick V8 Engines
Manufacture
D C Muscle Cars
Retail Price
$7.00

Ordering Information at the top of each Web Page
American Made Distributor Caps with Brass Contacts - Best of the Best!
Stock Number
DC310R
Fits
Buick GS / GSX / Skylark
Engine Size
350 / 400 / 430 / 455
Manufacture
Lectric Limited
Retail Price
$29.00
Our Price
$25.00

Ordering Information at the top of each Web Page
Electronic Ignition conversion Kit for Buick Distributors
Photo Below shows the Lectric Limited Brand Electronic Ignition Kit.
This Kit replaces the Factory Style Points.
Hooks up the Same Exact way as your Factory Distributor.
No need to change any Wiring. Stock Appearing when Done!

Far better track record than Pertronix!

Want us to install it? We have a Distributor Rebuild Service.
Your Distributor will look better than new when finished.
Click HERE for more info

Stock Number
38131
Fits
Buick GS / GSX / Skylark
Engine Size
350 / 400 / 430 / 455
Manufacture
Lectric Limited
Retail Price
$169.00
Our Price
$159.00

Ordering Information at the top of each Web Page
Standard Ignition Coil
GM replacement
Stock Number
EN 2515 Z
Fits
1964 - 72 Buick GS / GSX / Skylark
Source
TPP
Retail Price
$39.00

Ordering Information at the top of each Web Page
Delco Ignition Coil
Has Correct Logo and # 287 embossed in it.
Licensed by GM - # 115287
Photo Coming Soon
Stock Number
115287
Fits
1964 - 72 Buick GS / GSX / Skylark
Source
TPP
Retail Price
$109.00

Ordering Information at the top of each Web Page
Poster Size 1967 - 1972 Wiring Diagrams
These are Factory Wiring Diagrams from the Chassis Manuals
that we had made into a "Poster Size" making it much easier to read.
Choose from 1967 - 1972 Buick GS / GSX & Skylark Models.
These are roughly 24" x 36"
1967 Stock Number
WD67
1968 Stock Number
WD68
1969 Stock Number
WD69
1970 - 72 Stock Number
WD70
For
Buick GS / GSX / Skylark
Manufacture
Factory GM
Retail Price
$22.95 Each

Ordering Information at the top of each Web Page