Coming Soon Page 2 of 2
Greenlight Collectibles, Hot Wheels, Shelby Collectibles & Sun Star Releases all listed on Page 2

(Back to Page 1 Click Here)
Acme, Auto Art, Auto World & GMP Releases all listed on Page 1
The cars listed below are generally scheduled to
arrive in the next couple of months:

Note:
Pre-Ordering the popular cars is a good ideal as they sometimes sell out before their arrival date.
In some cases Pre-Ordering may also save you some money off the Retail Price
or the Shipping Fee's may be included in the Pre-Order Price!

Greenlight Collectibles:
Sun Star:
We have a lot more Sun Star items coming than what is listed here. . .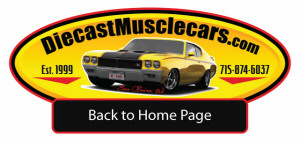 © TME 1999