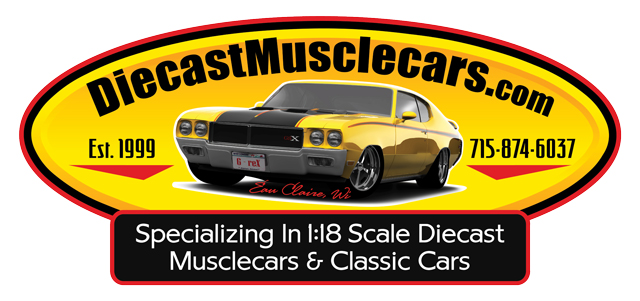 Slightly Damaged Section
The following cars have minor damage to them,
or parts that need to be glued back on. Or a Dented Box.
We've priced these slightly damaged models below cost so they
can be used as "Parts Cars" or "Project Cars".
In most cases these models can be repaired
(The cars with major damage get sent back to the manufacture for credit)
Attn: All stock numbers contain the letter "D".
This must be present when ordering so you get this car at the lower price !
All sales final on these since they're discounted.

www.DieCastMusclecars.Com
Stock Number
71101-D
Year / Make / Model
1962 Corvette
Exterior Color
Fawn Beige
Interior Color
Black
Manufacture
Auto Art
Scale
1:18
Production Number
Limited
Retail Price
$149.95
Our Price
$124.95
Note:
This car is missing it's antenna.
A new one can be made pretty easy from a paper clip!
Do you want to Order this Car ?

Just click here to fill out our Simple but Secure Online Order Form

More info here on: Warranty / Shipping Fees / Packaging / Pre-Ordering
More Lower Priced Cars can be found on our Monthly Specials Page.