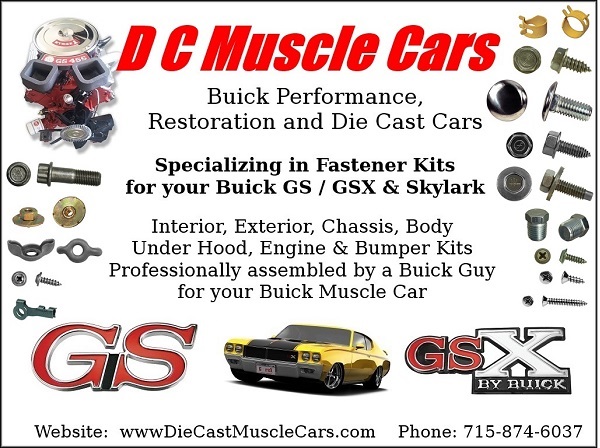 1970 GS Stage 1
Frame Off Restoration
One of our completed projects is a 1970 Buick GS Stage 1
that will be built for the street as well as the strip.
Motor Trend Magazine tested these cars back in 1970
and back then they ran a 13.38 @ 105 MPH.
That quarter mile time placed the 1970 Stage 1 GS as one
of the quickest American Production cars ever built.
A couple guys have actually built these cars to run
10 Second quarter mile times in "Stock Appearing" trim.
Stock Appearing simply means the car will look like it did the
day it rolled off the showroom floor. This car will be built using those
same guidelines. No after markets parts will be visible
in the engine bay or the interior. Ours will even be running the
Factory Quadrajet Carburetor and Cast Iron Exhaust Manifolds!


Update: Best E.T. so far with a Factory Stock-Low Compression Motor:
12.72 @ 102 MPH 1.73 60 Foot Time
Non Stage 1, No Port work, 8.5 to 1 Compression, Small Cam
I feel the car would easily run 11's with a 1970 Spec Stage 1 Motor
and Port work.
UPDATE:
This car has been sold to a good friend and has now received
an all Aluminum Stage 2 Motor with Fuel Injection.
More Details and Photo's at the bottom of this page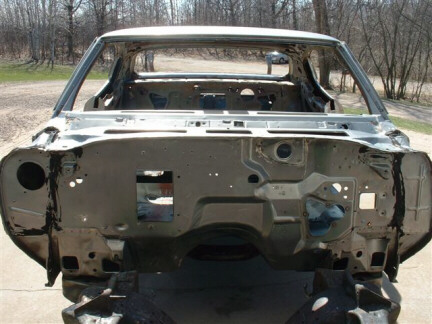 The shell shown here at Autokraft Racecars & Restorations.
The entire car was stripped down and media blasted prior to fresh paint.
Every part & piece was evaluated weight wise before being re-installed.
If it could be lightened, it was!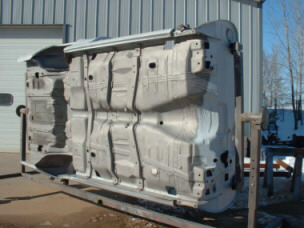 A rust free Shell was located for this project.
Picture above shows the bottom of the shell after being media blasted.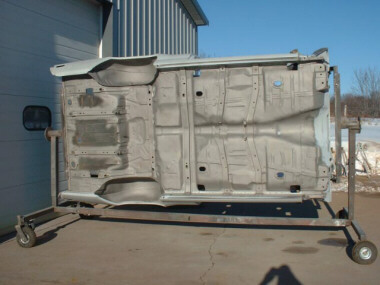 Also visible in this picture are the 6 holes that were cut allowing the
Roll Cage to mount directly to the Frame rather than the floor pan.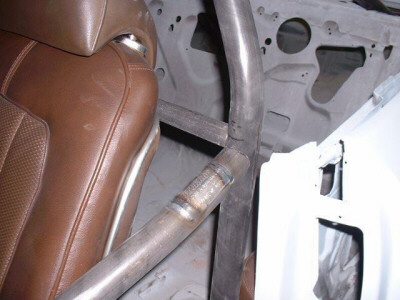 The Cro Moly Roll Cage was fitted but will not be welded in until the body is
placed back on the frame. We chose Cro Moly Tubing for its strength and light weight.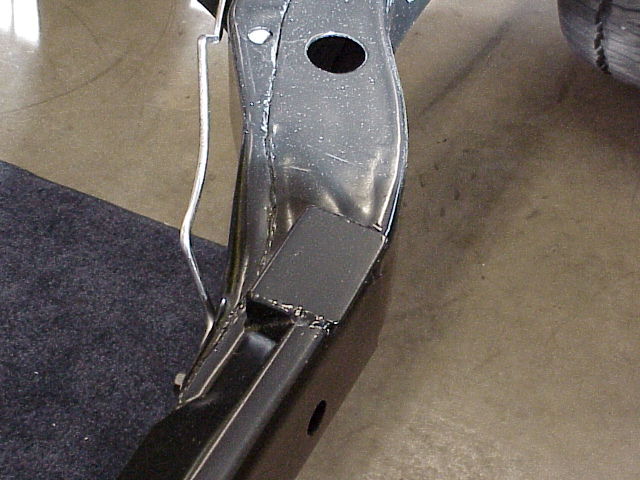 Above Photo shows the Pads that Autokraft fabbed up to mount the Roll Cage to.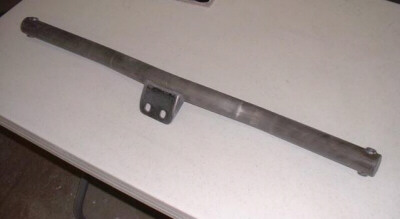 Picture above shows a Cro Moly Crossmember.
This will replace the heavy factory unit to help save some weight
and allow for easier installation and removal of the Transmission.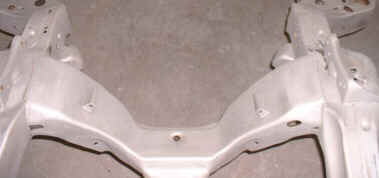 This photo shows the custom made motor mounts.
These mounts are lighter than the factory mounts and
allowed us to move the motor back a bit more for better
60 ft times. The engine mounts are also custom and utilize
polyurethane rather than rubber like the factory ones.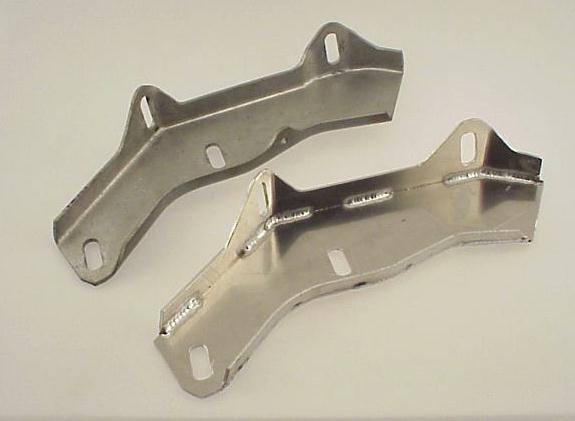 Front & Rear Aluminum Bumper Brackets were made to help reduce overall weight.
Factory Bracket is shown at top, Aluminum version is shown at bottom.
These are the same brackets we had fabbed up for our GSX Resto Mod.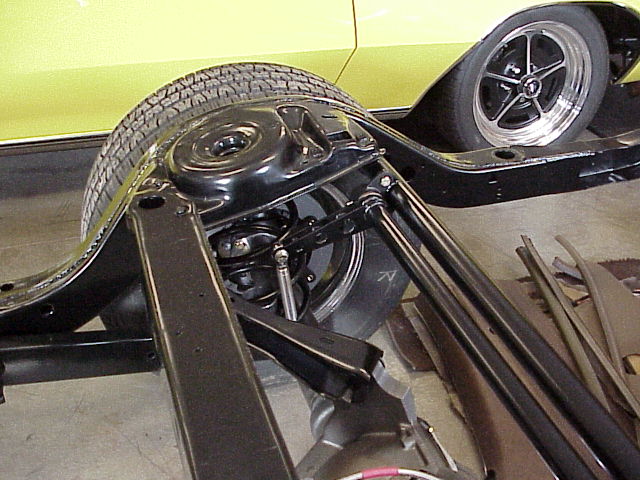 Picture above shows the Cro Moly anti roll kit that was installed.
This kit will help the car launch nice and straight which greatly improves 60 ft times.
This kit also helps stiffen the rear portion of the frame.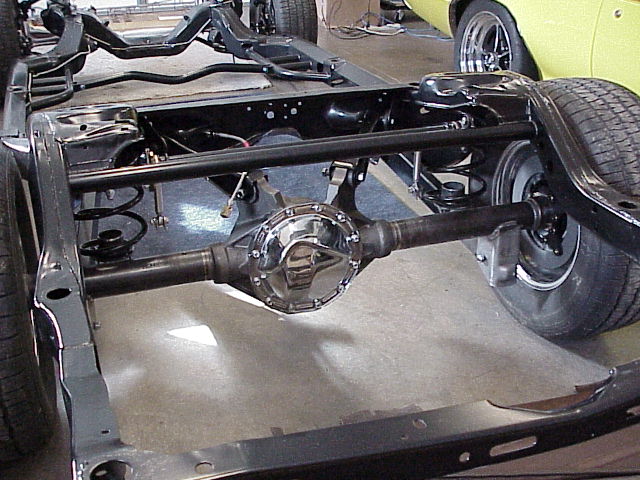 This photo shows the arms hanging down prior to welding to the rear end housing.
This kit can be unhooked within a minute if racing at an event that doesn't allow traction aids.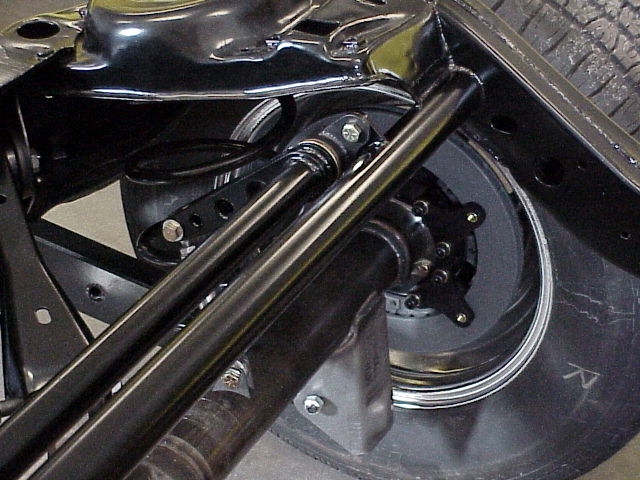 Another shot of the Anti Roll Kit. The addition of this kit will really improve overall
traction and also stiffen the chassis.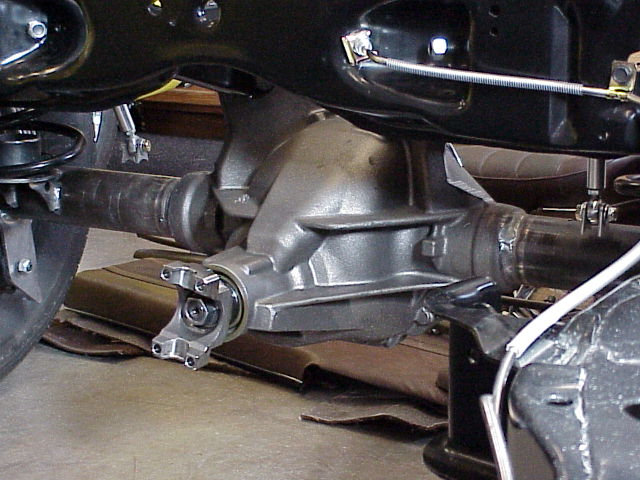 A 12 Bolt Rear End was purchased from Moser Enterprises.
These cars came with a 10 Bolt from the Factory but for strength purposes
they're usually replaced by 12 Bolt units.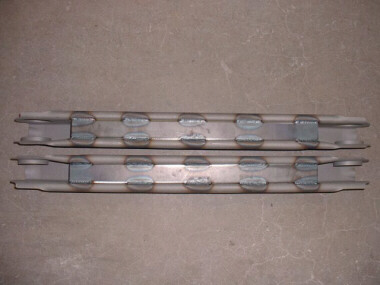 The factory control arms were blasted and beefed up prior to powder coating.
We chose to utilize these simply because they're "Stock" and even after beefing them up
they're lighter than the aftermarket pieces. Polyurethane bushings will also be installed.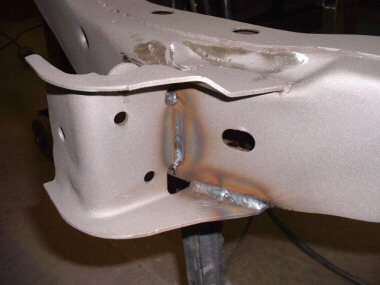 Autokraft re-welded key areas on the factory frame to help strengthen it some more.
The Rear Control Arm Mounts are shown here.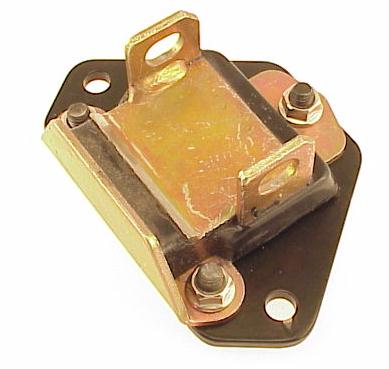 We didn't want to use a Solid Motor Mount so Autokraft Fabricated Polyurethane Mounts
which have less flex than the factory rubber ones. And they're lighter!
September 2010
For this year we will be installing
a totally stock 1971 Buick 455. This is an 8.5 to 1 Compression motor and should
Make roughly 380 HP. We will install this and use it as a baseline with hopes of
installing a fully ported and higher compression "Stock Appearing" Stage 1 455 later on.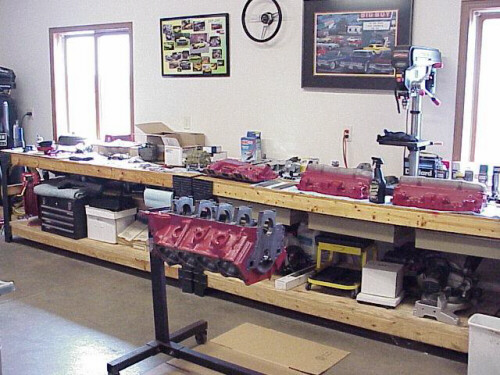 Assembly has begun on my Stock - Low Compression 1971 455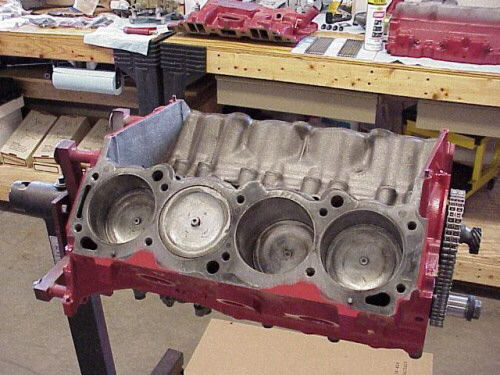 This Motor will retain the Factory 8.5 to 1 Compression Pistons.
The only upgrades to this motor will be a cam and double roller timing chain.
The goal here is to install a stock - low compression motor and see
what it will run in a lighter weight GS. This will show us what we gained
by paying attention to the overall weight of the car.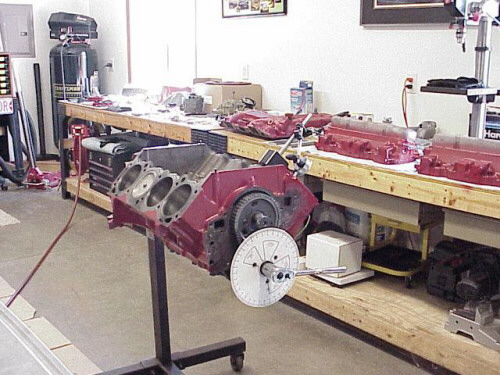 Degreeing the Camshaft.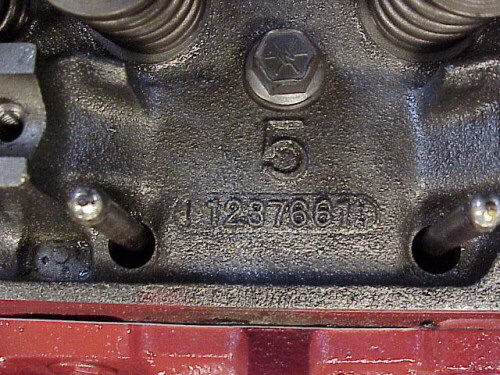 Stock - Non Stage 1 - 1971 Heads were retained for this build up.
Factory Part # shown - 1237661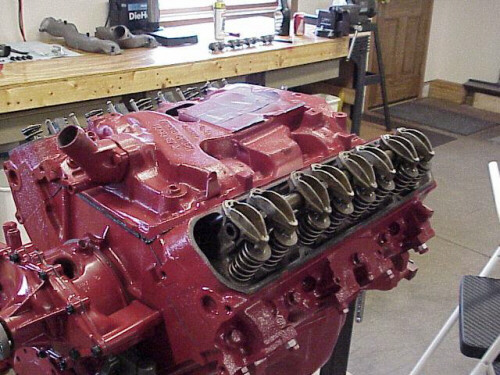 Motor is pretty much assembled at this point.
We will dyno the motor later this fall.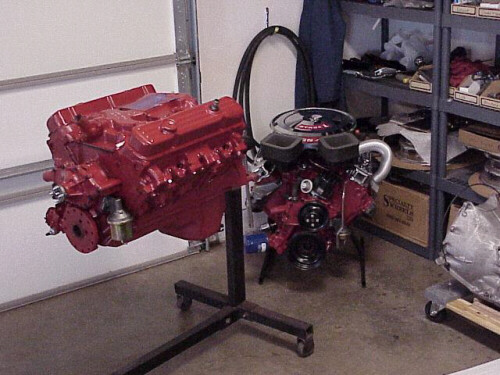 Both Motors shown in this Picture.
The Motor on the left is the Stock 1971 - Low Compression Motor
that we'll use as a Test Bed for this year.
The Motor on the Right is the Stage 1 Motor that will receive
a higher lift cam, ported heads, ported intake and exhaust manifolds.
It will also be close to 11.1 compression.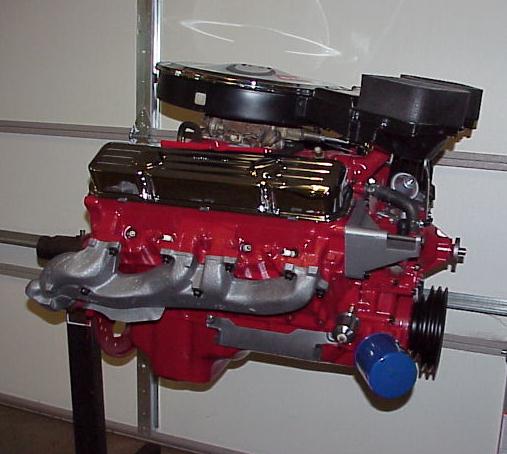 Shown above is the Buick 455 "Stage 1" that will power our GS in the future.
It needs to be freshened as well as some serious port work.
This motor will someday make its way into the car and greatly improve 1/4 mile times!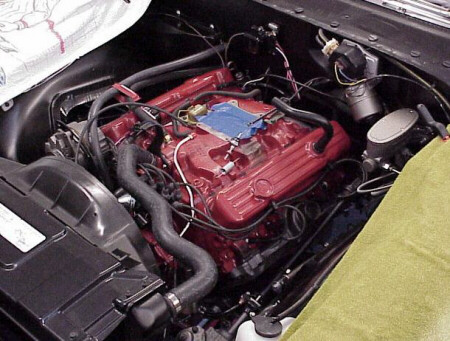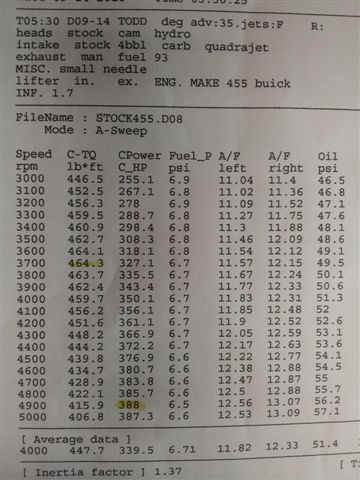 October 2010
Our Stock 1971 "Base" engine is now installed. This motor made 388 HP and 464 TQ.
We will run the car next spring with this motor to use as a guideline.
Then the Stage 1 "Ported" version will be installed.
That motor "should" put the car in the 11 second bracket.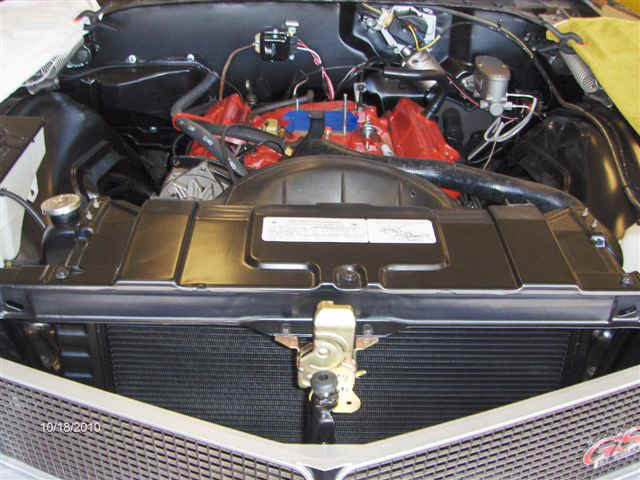 Base Engine installed / Picture 1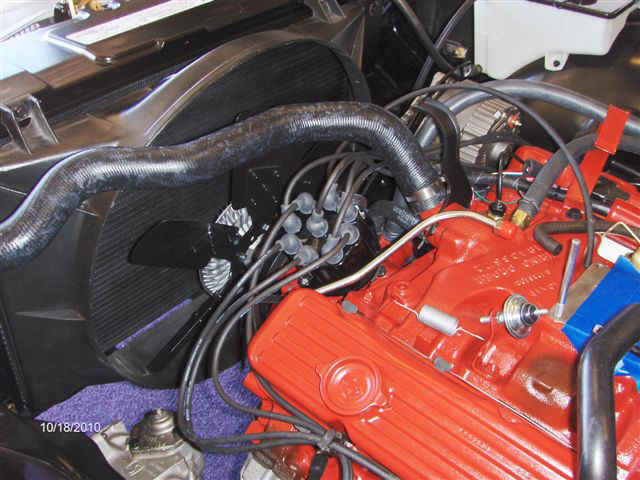 Base Engine / Picture 2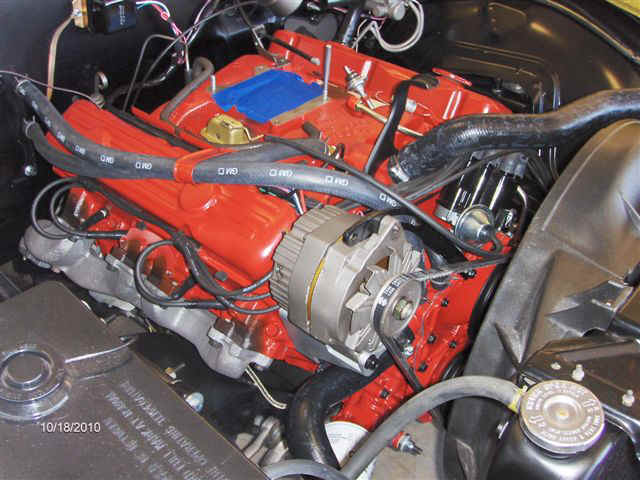 Base Engine / Picture 3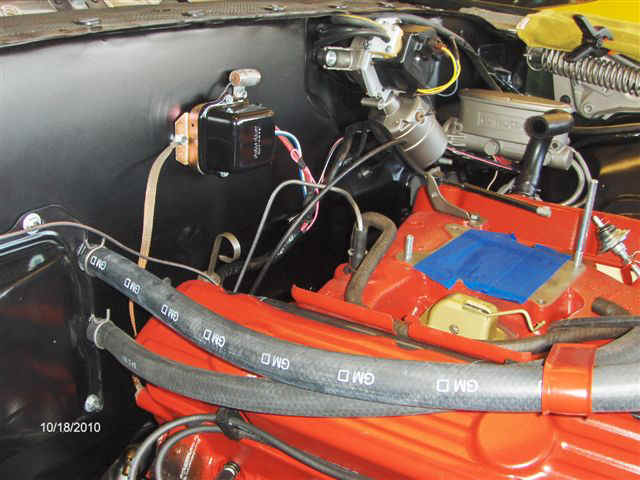 Base Engine / Picture 4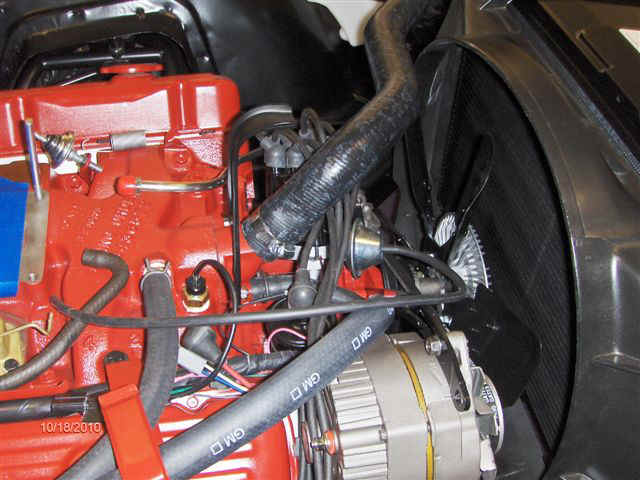 Base Engine / Picture 5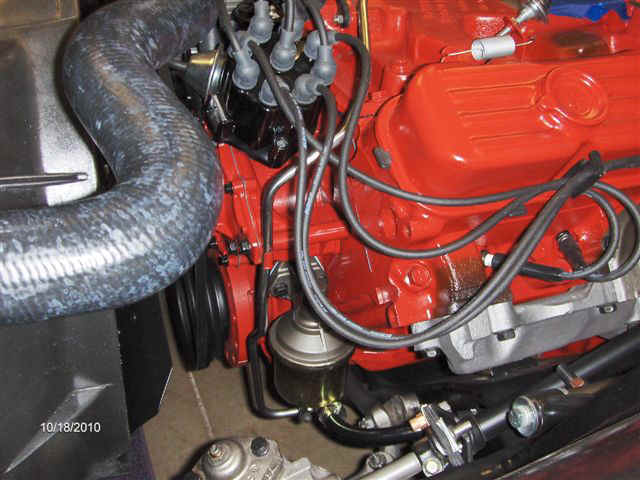 Base Engine / Picture 6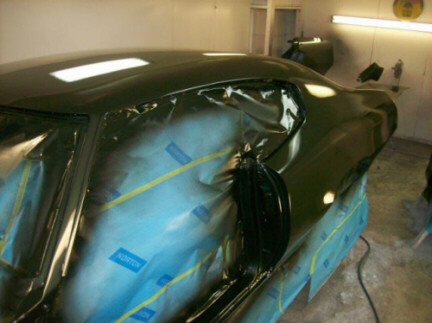 Paintwork has begun!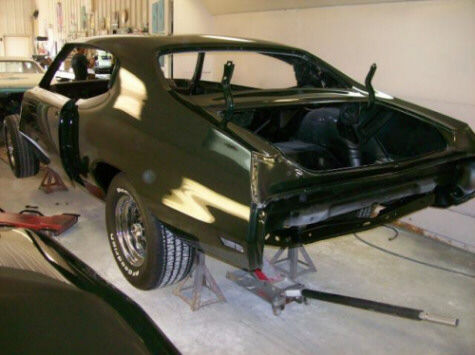 The assembly process has begun.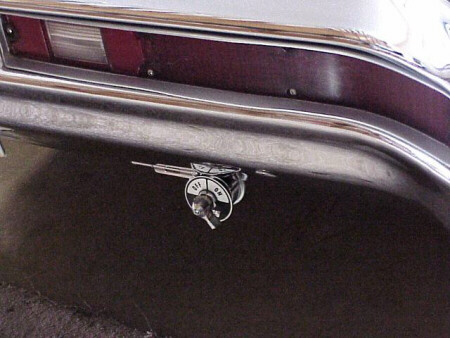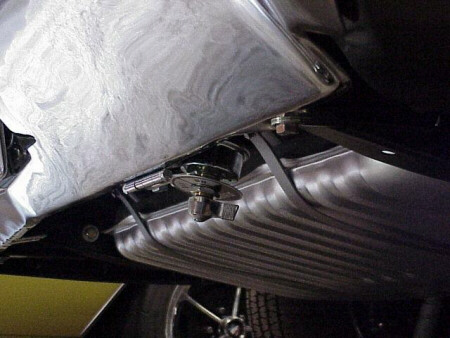 I really didn't want any "Race" parts to be visible on this car so
the Battery Disconnect Switch was placed on a hinge so we can hide it when
not at the Track. Second photo shows the switch in the "hidden" position.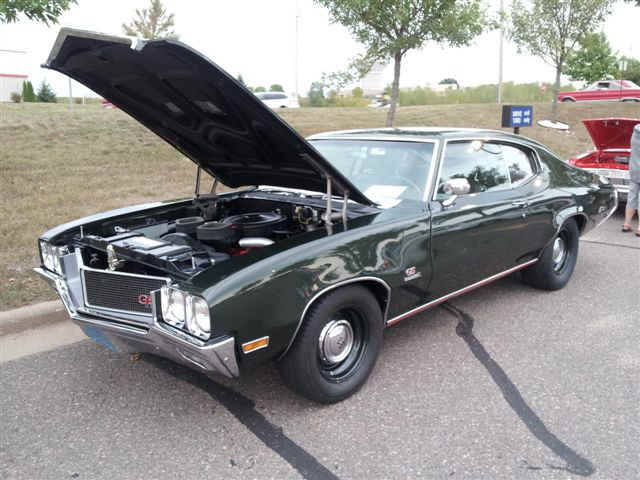 Shown here with our "Sleeper" wheels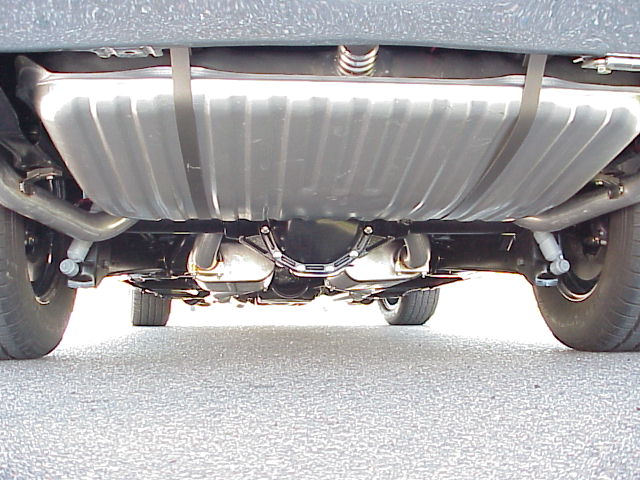 Fuel Tank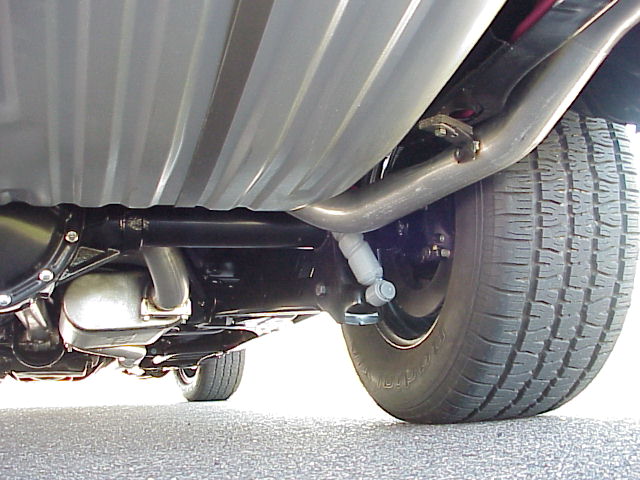 Rear View - Right Side (Note Factory Shocks!)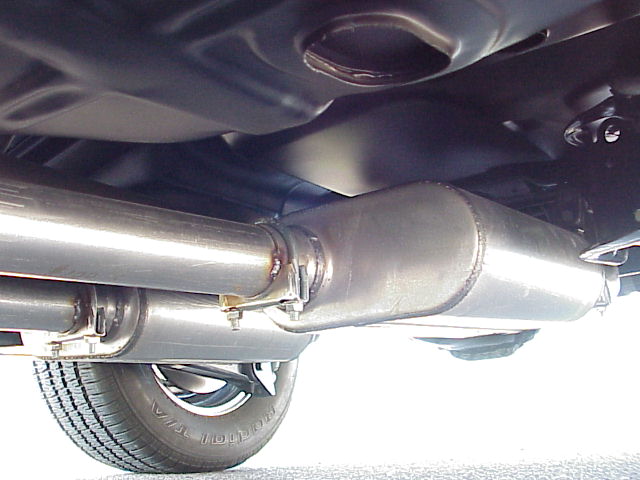 2.5" Exhaust System w/ Dyno Max Mufflers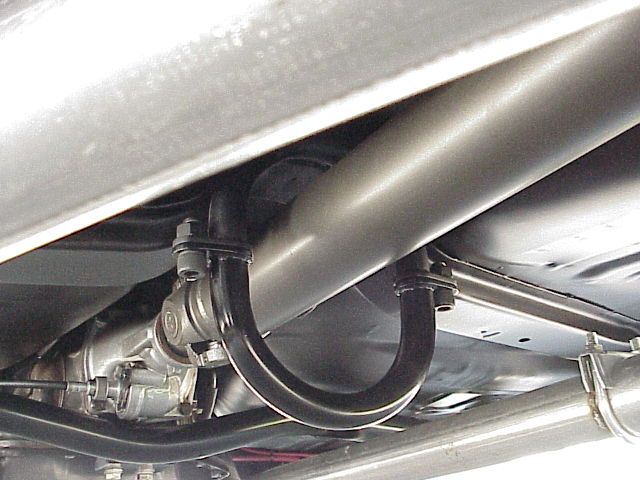 Cro Moly Driveshaft Loop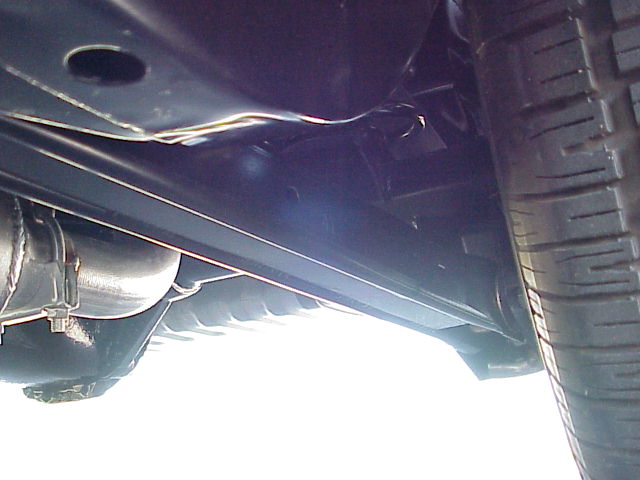 Stock Lower Control Arms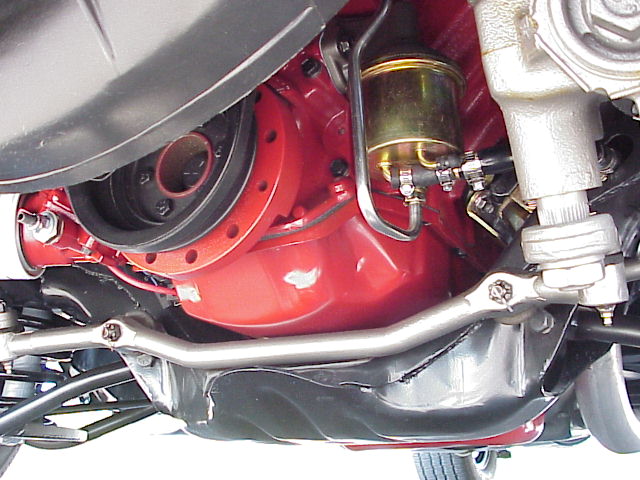 Underside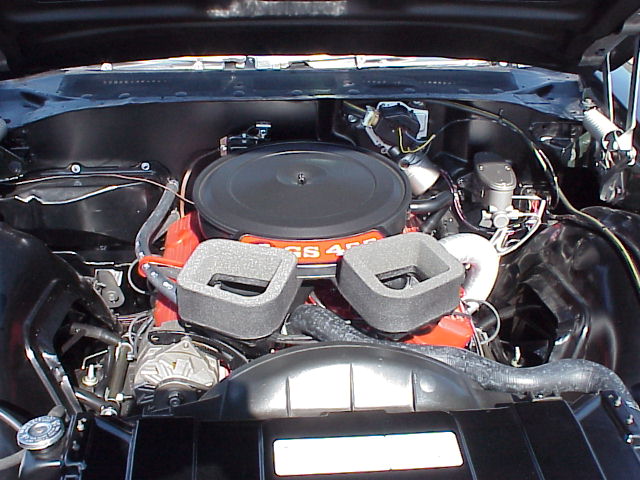 Engine Bay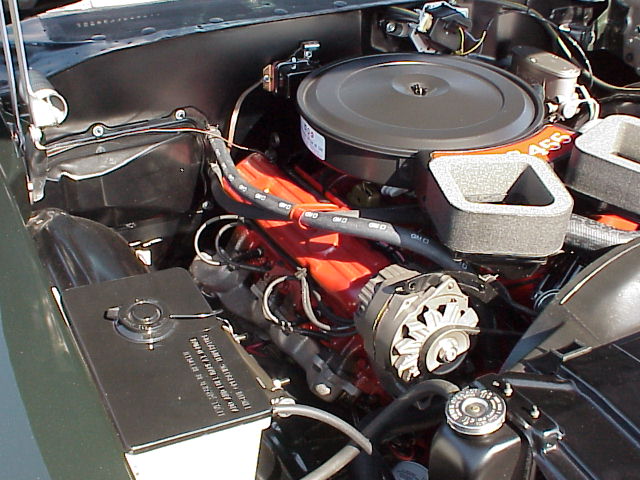 Engine Bay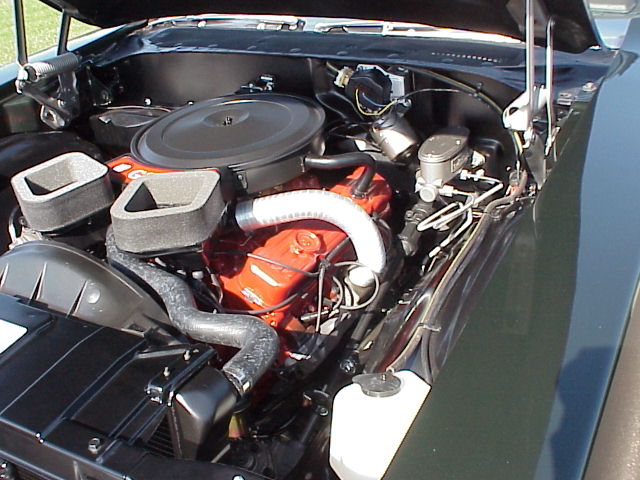 Engine Bay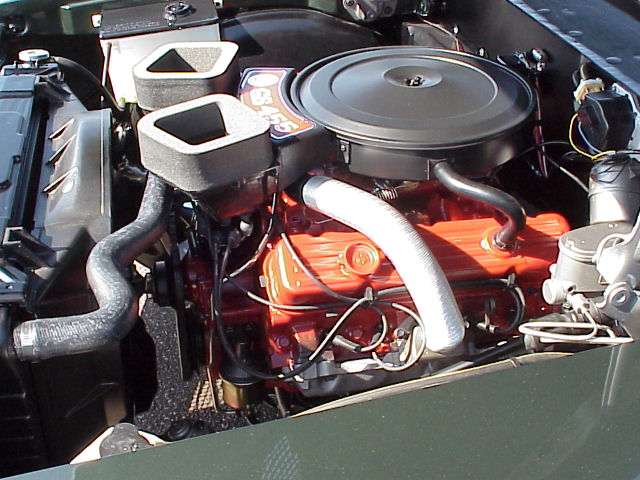 Engine Bay - Driver Side View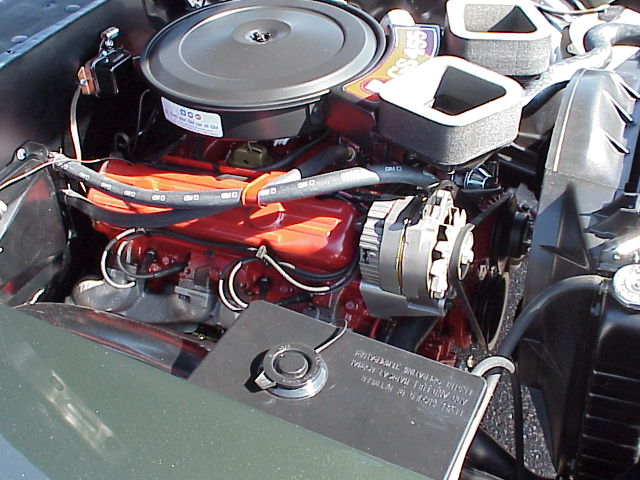 Engine Bay - Passenger Side View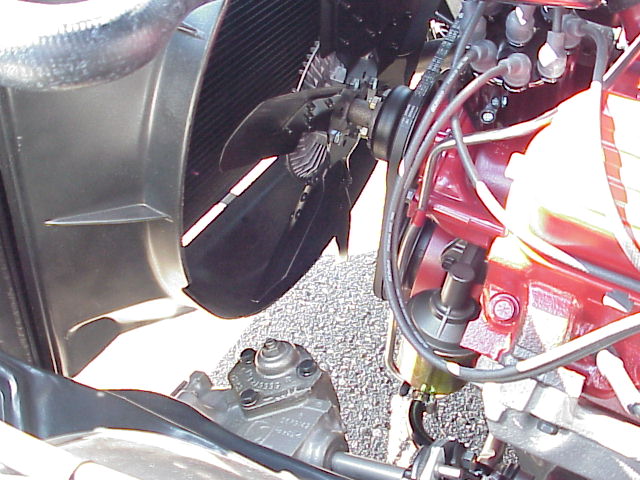 Clutch Fan Assembly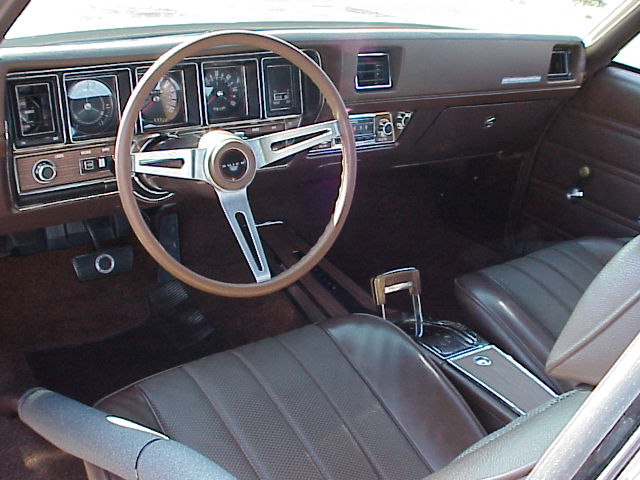 Factory Rally Steering Wheel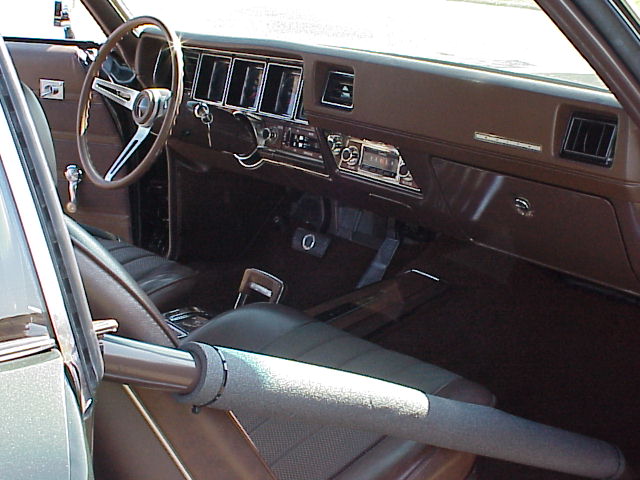 Dash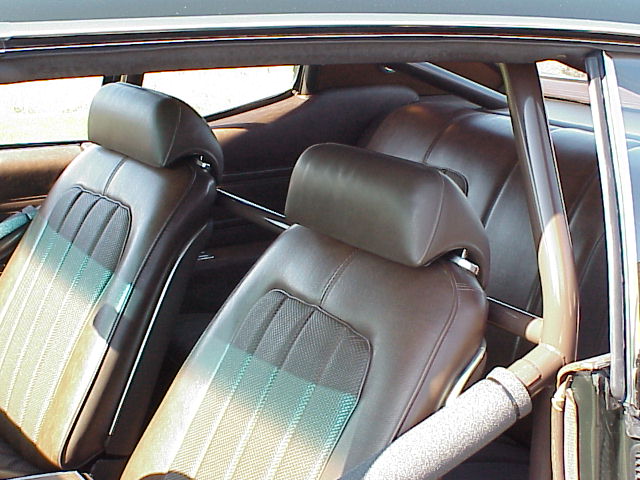 Seats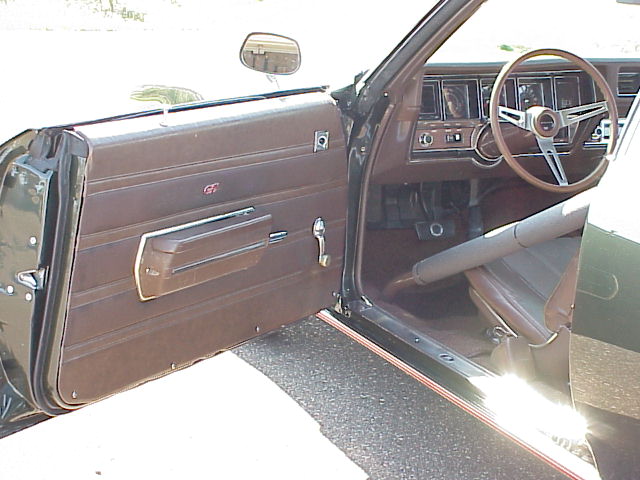 Door Panel / Driver Side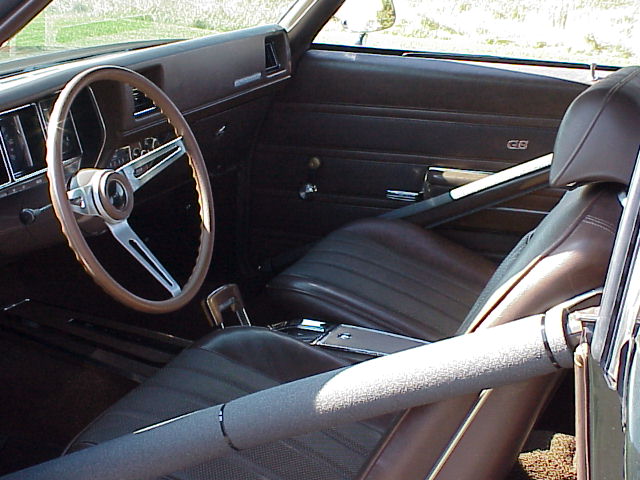 Interior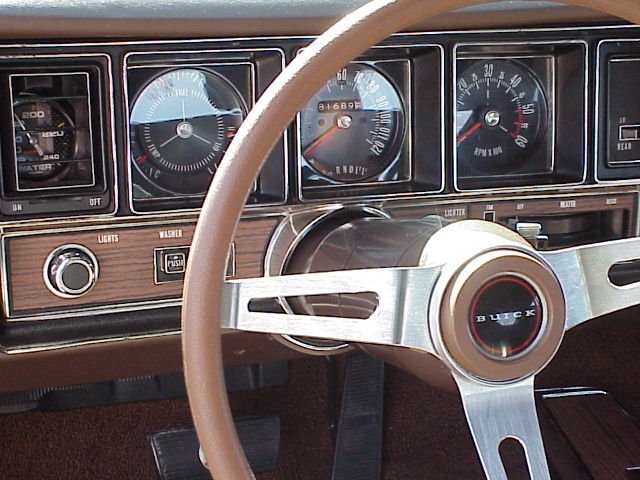 This shot shows the Temp Gauge hidden inside the Left Side A/C vent.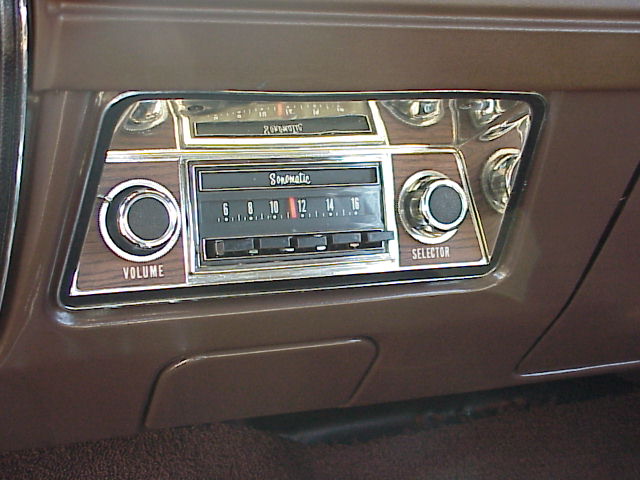 Factory Radio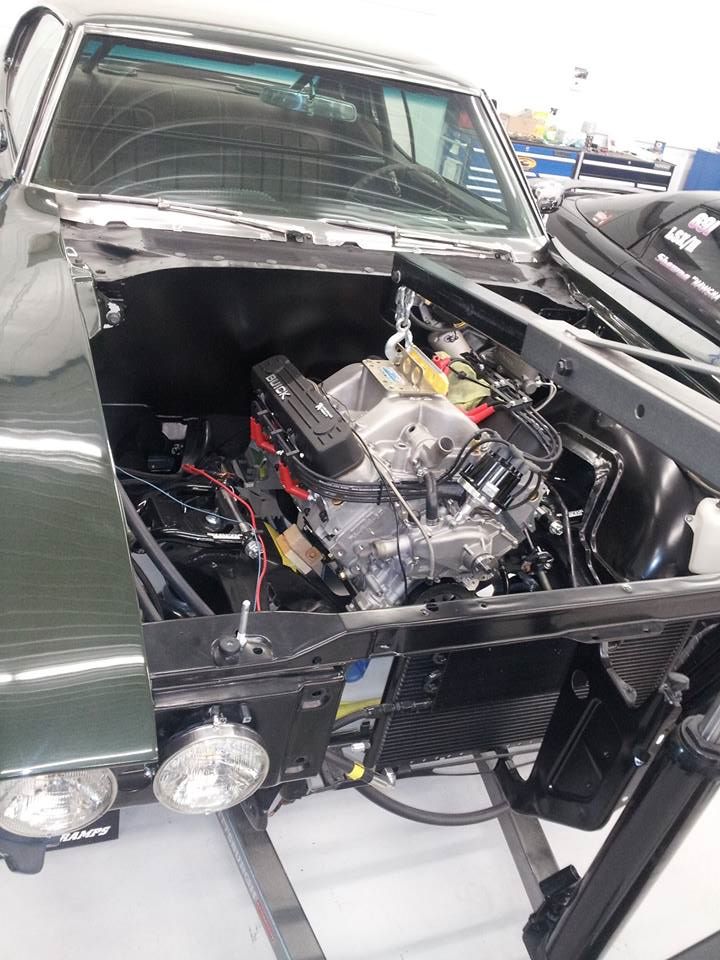 Update - July 2016
Car has been sold and is now sporting a Full Blown Stage 2 Motor and Fuel Injection.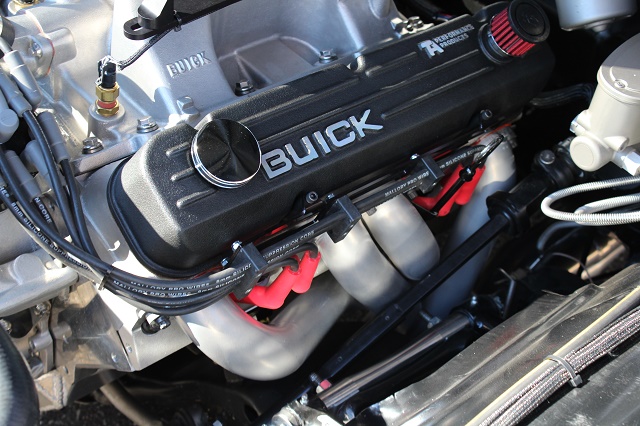 Update - October 2016
Current Car owner had us install a Full Blown "572" Stage 2 Motor
This motor made over 700 H.P. and 700 + Torque
We also installed Air Conditioning and Pro Touring Suspension from Speed Tech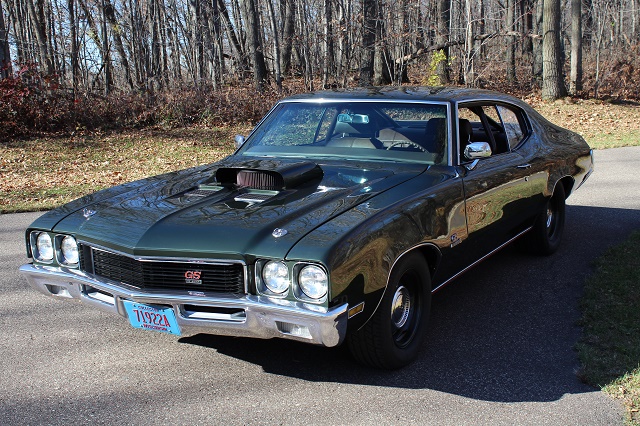 A Stage 2 hood Scoop was also added for proper hood clearance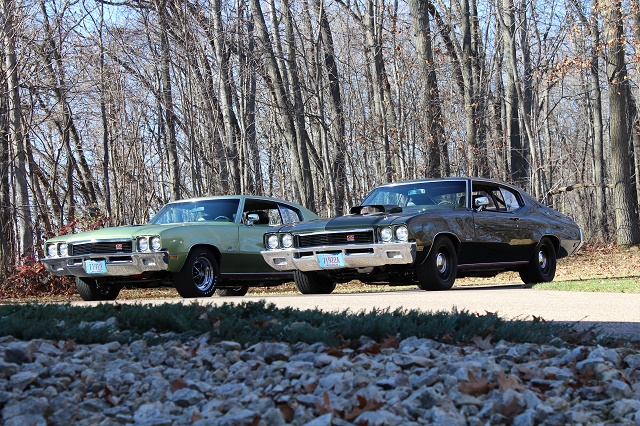 The Current owner wanted his now toy to match his 1972 Stage 1 so we swapped out the
Front & Rear Bumpers, Headlight Bezels, Hood Trim and Grill.
1970 GS Stage 1 Specs
Motor # 1
This is basically a stock rebuild on a 8.5 to 1 - 1971 Buick 455.
This will give us a good baseline to start with.
Best E.T. with Base Motor = 12.72 @ 102MPH / 1.73 60 Foot time
I believe we'll see 12.50's in cool air with this motor.
Motor
1971 Buick 455 (Non Stage 1)
Block
GM - 1231738
Heads
GM - 1237661 - Standard Size Valves - Not Stage 1
Intake
GM - 1236403
Pistons
GM 8.5 to 1 Compression - 1237454
Exhaust Manifold (Left Side)
GM - 1233451
Exhaust Manifold (Right Side)
GM - 1383648
Timing Cover
GM - 1230345
Fan Pulley
GM - 1238156
Crank Pulley
GM - 1235779
Carb
Quadrajet # 7041540 MF
Distributor
GM - 1112077
Cam
TA 288-98H
Starter
RobbMC Performance Lightweight Mini Starter
Drivetrain:
Tranny
Turbo 350 (Behind Baseline Motor)
Converter
Hughes 3,000 Stall (Behind Baseline Motor)
Driveshaft
Stock GM
Rear End
12 Bolt / Moser Engineering
Gears
3:90 Ratio / Auburn Posi Unit
Wheels
Factory 15" Buick Rallye Wheels
Front Tires
BF Goodrich Radial TA's 235/60R15
Rear Tires
Mickey Thompson Drag Radials 275/60R15
Cooling System / Fuel System:
Radiator
Factory Appearing Aluminum Reproduction
Alumitech Reproductions
Fuel Pump
Factory Stage 1
Fuel Pick Up Tube
RobbMC Performance 1/2"
Fuel Tank
Factory GM
Exhaust, Brakes & Suspension:
Exhaust
Torque Tech 2.5" Aluminized Mandral Bent w/ X-Pipe
Mufflers
Dyno Max
Manifolds
Factory Cast Iron - Ported by GHP
Front Brakes
Wilwood Light Weight Discs
Rear Brakes
Wilwood Light Weight Discs
Rear Control Arms (Upper)
Factory GM
Rear Control Arms (Lower)
Factory GM (Boxed)
Front Shocks & Springs
Factory GM
Rear Shocks & Springs
Factory GM
Interior:
Seats
Factory Buckets
Shifter
Factory Floor Shift
Gauges
Factory - Oil, Temp, & Fuel
Tachometer
Factory
Aftermarket Gauges
Auto Meter / Temp & Oil (Hidden fromView)
Steering Wheel
Factory GS Sport Wheel (3 Spoke)
Roll Cage
6 Point Cro-Moly
Features:
Looks totally Stock!
Paint and Fab Work: