ORDER INFO

Online Ordering:
You can place your order by filling out our secure online order form.
MasterCard & Visa are accepted. This is a secured order form for worry
free credit card purchases. A "confirmation e-mail" will be sent to you to
let you know we received your order. This "confirmation e-mail" will normally
come within an hour if you place your order during normal working hours.
(1 pm to 6 pm central time) If you place your order during the weekend
we may not send you a confirmation e-mail until Monday morning.
We accept MasterCard, Visa, Cashiers Checks and Personal Checks.

Phone Orders: (715) 874-6037 We are in the central time zone. See chart below
You can place your order by calling us also. Our phone hours are 1 pm to 6 pm
Monday through Friday. We have an answering machine also so if we miss your
call you can leave your name and phone number and we will call you back as soon as possible.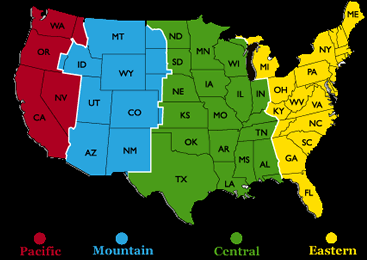 Mail Orders:

You may send in your order also if you wish to pay with a Cashiers Check.
If payment is made with a Personal Check your order may be held for up to
10 days for the check to clear. Just be sure to include your shipping address
as well as the items you wish to order! If we know your sending a payment
we will place your item on hold for up to 10 days while payment is in transit.
Payments can be sent to the following address:



Die Cast Muscle Cars.Com
Attn: Todd Miller
1377 40th Street
Eau Claire, WI 54703

Die Cast Pre Orders:

If you wish to "Pre-Order" a car you must submit us your shipping info and
credit card info via our Secure Online Order Form. (Or by Phone)
Pre-ordering a certain car guarantees you of that car even if they sell out.
Your card will not be charged until the product is in Stock.
Your product will automatically ship out as soon as they arrive.
Because of our Large Customer Base and the time involved
we do not contact you prior to shipping unless requested.
By filling out the Order Form (Or pre-ordering via Phone or E-Mail)
you are telling us that you do want that item and are
giving us permission to charge your Credit Card and ship it out
once it's in stock. If you decided you no longer want a car that is on Pre-Order
please cancel that item before it arrives so we don't have to sit on extra inventory.
If you choose to pay with a Money Order you can do
so but payment is required right away to guarantee that model.
We actually prefer a Credit Card for Pre-Orders that way you're not paying
for the item until it is in stock and ready to ship. Prices subject to change
only if the Manufacture raises our prices prior to shipping.

Canceling Your Orders:

We generally ship out Pre-Orders the same day they arrive so if a cancellation
is necessary please do so before it arrives. (Estimated Arrival Dates are on the
website and updated per the Manufactures Production Schedule)
If you placed an order for an "In Stock" item and you change your mind
you may have to pay shipping fee's if the cancellation is done AFTER the item has been shipped.
(Most "In Stock" items are shipped out within 24 Hours)


Change of Address:

If you Pre-Order a car from us and move before it arrives we ask that you
contact us with your new address. If we are not aware of your new address
UPS does charge a fee to forward the car to the correct address after trying
to deliver to the old address. Avoid the service fee and contact us with your
new address!!!



Domestic Shipping prices:

Shipping on all Parts is actual price to ship once packaged and weighed!
Shipping on all cars is $13.00 for one and $1.00 for each additional "In Stock" car.
(Pre-orders are not included as "additional cars" since they'll ship at a later date.)
Shipping prices on our Buick Products vary depending on the weight.
In most cases we can ship our Buick Products via the US Postal Service.
All Die Cast Cars are shipped via UPS "ground". Delivery time is usually 2 to 5 business days.
Alaska, Puerto Rico and Hawaii shipments are slightly higher and are shipped via the
U.S. Postal Service. (If needed you can E-mail us for your exact shipping price)
Please Note: P.O. Box shipments are slightly higher than our UPS Fee!
A $1 to $3 fee may be applied to any and all shipments including the U.S. Postal Service.
This is considered a "Handling Fee" and helps cover the following costs:
Box Fee's, Packing Tape, Packing Peanuts, Fragile Stickers, Shipping Labels,
Printer Ink, UPS weekly Service Fee's, UPS Fuel Surcharges etc. . .
Also, since shipping Fee's are not refundable through UPS we generally cannot refund them either.

Next Day Air, 2nd Day Air and 3 Day-Select are UPS Shipping Options
that are available if a package is needed faster than the normal delivery time.
(Additional fee's depend on package weight and destination)


Foreign Shipments:

Foreign Shipments are possible but the following requirements must be met:
Products ordered must equal at least $20.00 and cannot exceed $300.00.
Shipping fees are not covered in any warranty situations but we do package
them really good so warranty issues are very rare. ( See Packaging below)
Shipping is done through the U.S. Postal service using "Priority Air Mail".
Delivery time is usually 10 to 20 days. Shipping Fee's depend on the overall weight
of package being sent. If needed you can E-mail us for your exact shipping price.
A $2 to $3 fee may be applied to all shipments via the U.S. Postal service to help cover
driving time and gas to and from our Local Post Office. This is considered a "Handling Fee"
Please keep in mind shipping fee's also contribute to Box Fee's, Packing Tape, Packing Peanuts,
Fragile Stickers, Shipping Labels, Printer Ink etc. . . Also, since shipping
Fee's are not refundable through the USPS we generally cannot refund them either.

DieCastMusclecars.com has successfully shipped to Countries such as
Canada, Japan, Australia, Germany, Russia, the United Kingdom and more!


Packaging/Warranty: (Parts & Die Cast)

All our items which are in stock will be packaged with care and usually shipped out within 24 hours.
Delivery time depends on where you live but 1 to 5 business days is the normal time frame.
We use brand new shipping boxes with "Fragile" labels attached to help for a safe delivery.
We package our products with special care to help avoid "Damage in Shipping" claims.
Damage Claims must be made within 15 days of purchase in order for us to get reimbursed
from the manufacture or UPS. Any warranty issues need to be called in within 15 days.
A Return Authorization Number is required for returns so please call before returning
merchandise. Items sent back without an RA Number may be refused.

We use Brand New shipping boxes. Your car will be surrounded by packing peanuts so your cars box
won't get a banged up corner. Paper toweling & cardboard is also placed over the box window to
protect it against denting & scratches. We also label our boxes with "Fragile" stickers before shipping. If you receive
a box from us and it's beat up please have the UPS man mark it. (This makes processing a claim easier if needed)
Keep in mind when the boxes leave here they're perfect! If they're beat up and damage has occurred
in transit then we may need to file a claim with UPS. We do package them well and very few claims are made.
The bottom line is we take pride in what we sell and how we conduct business. Our goal is to keep our customers
happy and we go the extra mile to do just that!

Die Cast Pricing:

If you have found a lower price on a competitors website we will match that price
in most cases. (Sale Prices and E-Bay auctions may or may not be matched)
We will require proof of the price. This would be a link to the website advertising
the lower price in most cases. Please Note that shipping Fee's may also apply.

Die Cast Layaway:

We can hold your order for up to two weeks. If you have ordered more than
one car and would like them shipped together to save on the shipping costs we
can do so providing the "out of stock" model arrives within two weeks.
With our continued growth of customers we simply don't have the space to
hold the cars any longer than two weeks. If an exception is made and we hold
something beyond the two week time period we request that the items be paid for,
minus Shipping Fees which will be applied on the actual ship date.
(We apologize for having to implicate a time frame on this but we hope you understand.)

Security:

Our online order form is Simple and Secure for worry free credit card purchases.
We pay our server extra for this so our customers

do not have to worry when
purchasing online with a credit card. We also value your privacy.
Your personal information will never be sold to "third parties"

Please feel free to E-mail us if you have any other questions. Click here to send us an e-mail.

Thank you for visiting our website !

DIECASTMUSCLECARS.COM

1377 40th Street

EAU CLAIRE, WI 54703

PHONE ORDERS= (715) 874-6037
Phone Hours> 1 pm to 6 pm central time Monday through Friday.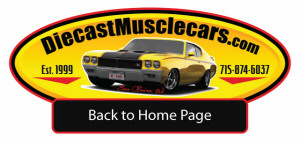 © TME 1999